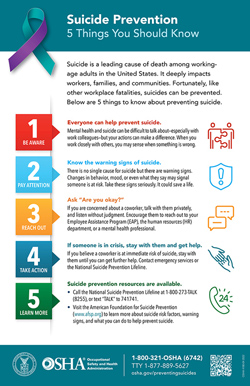 September is Construction Suicide Prevention Month.  According to the Centers for Disease Control and Prevention, the construction industry has the second highest rate of suicide in the U.S.  Working in the building and construction trades has become this country's deadliest occupation. But it isn't cranes, ladders or broken bones that get to construction workers. They are more likely to die by their own hands rather than be killed in an on-the-job accident. With 53.2 suicides per 100 thousand workers, construction has among the greatest suicide rate of any industry – over four times higher than the national suicide average and five times higher than all construction deaths combined. Work in this industry is a demanding profession. There are tremendous production expectations on the workers in order to fulfill deadlines as well as working circumstances that may frequently be hazardous if rigorous safety rules are not followed. While further study is underway to understand these work-related factors, initial research indicates suicide risk is related with the following:
Low skilled labor
Lower education
Access to lethal means
Job stress
Poor supervision and colleague support
Low job control
Job insecurity

We join other groups which recognize September as a month to raise awareness about the higher-than-average number of suicides in the construction industry and providing resources to help prevent those deaths. Hellman & Associates supports and encourages your company to expand internal resources and recognize National Suicide Prevention Month. H&A can provide assistance for you to raise awareness about the unique challenges workers face in construction leading to suicide and what we can do to prevent it.

 Click here to download OSHA's Suicide Prevention guide. Resources are also available at the 988 Suicide & Crisis Lifeline (formerly the National Suicide Prevention Lifeline). It provides free and confidential emotional support to people in suicidal crisis or emotional distress 24/7 in the U.S. The Lifeline is comprised of a national network of over 200 local crisis centers, combining local care and resources with national standards and best practices.

Together, we can save lives. Contact us to learn more about how H&A can help you keep your valuable employees safe on and off the job.