National Health and Safety Month
In 1996, the National Safety Council (NSC) established June as National Safety Month. The goal of this designation is to increase awareness of the leading safety and health risks with the goal to decrease the number of unintentional injuries and deaths.
What can you do to take advantage of this national month-long emphasis on health and safety?
Prevent Incidents Before They Start: Identifying risks and taking proactive safety measures to reduce hazard exposure on important topics from ergonomics to chemical management is crucial to creating a safe workplace.
Address Ongoing COVID-19 Safety Concerns: As the pandemic continues, employers play an important role in the return to physical work spaces, building trust around vaccines, mental health and more.
It's vital to feel safe on the job: Being able to work without fear of retaliation is necessary for an inclusive safety culture. Leading organizations focus not only on physical safety but psychological safety as well.
Advance your safety journey: Safety is all about continuous improvement. Whether organizationally or individually, there are resources which provide guidance for the path forward.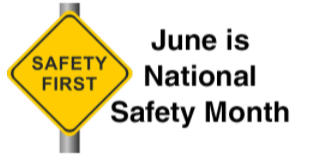 Celebrate and focus your organization on health and safety this month. H&A invites you to recognize someone in your company who inspires you to be safe. Send us an email with your Safety Hero details so we can help you recognize their actions.
In addition to a variety of safety materials available from the NSC, H&A has online resources you can explore. Consider H&A's COMPLIANCEAction Assessment which gives you a snapshot of your current risk exposure. This valuable process analyzes gaps and helps avoid a fine from regulatory agencies. This assessment will also provide you with an action plan—all for about the cost of a single, serious OSHA citation.
Contact H&A to learn more about the COMPLIANCEAction Assessment and the benefits it provides. Keep your company and its employees healthy!