Construction Companies: You have Until September 23, 2017 to Achieve Silica Standard Compliance
OSHA's new regulatory standard for construction companies regarding occupational exposure to Respirable Crystalline Silica (RCS) has been extended to September 23, 2017. After this date, silica exposure control, respiratory protection programs, employee training and recordkeeping will be compulsory, and those who have not adopted the required silica standard will be subject to fines.
Construction Compliance Enforcement
Date: September 23, 2017
OSHA estimates that over 2.3 million workers are exposed to airborne dust containing respirable silica and that 90% of those workers are employed in construction—making the construction industry a target for inspections. Are you prepared?
""H&A's Silica Compliance Toolkit was without question an excellent investment and made compliance with this standard a breeze. The written programs were easy to implement and the training presentations are professional and simple to use. H&A was responsive to the few questions we had—it was really a turnkey solution."
– Steve D.
President Coblaco Services, Inc.
Introducing H&A's Silica Compliance Toolkit
Everything You Need to Get Silica Exposure in Compliance
Time is running short, and many companies that deal with silica construction don't have the capacity to ramp up a Silica Compliance Program by OSHA's compliance date—leaving them open to audits and fines. Hellman & Associates has put together the
Silica Compliance Toolkit
, a comprehensive silica control packet that gives you the tools you need to get your silica plan and procedure in place, fast. For just $499, you'll receive: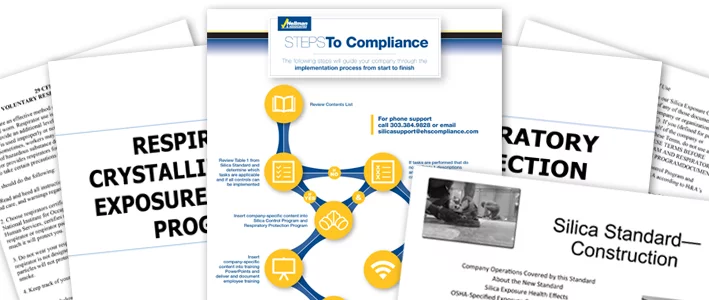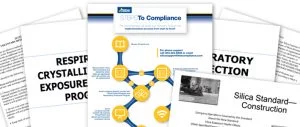 Step-by-step instructions for comprehensive silica compliance management
Standard implementation and Table 1 guide for silica safety
Silica Exposure Control Plan Template in MS Word
Respiratory Protection Program Template in MS Word
Employee Training Program Silica Template in both English and Spanish in MS PowerPoint
Email and phone support from H&A's experienced staff of EHS Professionals, including Certified Industrial Hygienists (CIH)
Would you prefer a full-service silica plan implementation? Call us at 303.384.9828 or email
info@ehscompliance.com
today to get started.