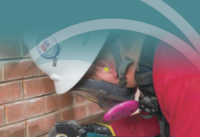 A new initiative was implemented by OSHA in Region VIII in March. The regional emphasis program on silica in cut stone and slab handling seeks to identify and reduce hazards associated with respirable crystalline silica exposure. OSHA will begin conducting inspections at facilities following a 90-day outreach period approximately June 1, 2022. These inspections are targeted at the industry defined as NAICS 327991 – Cut Stone and Stone Product Manufacturing.
To clarify, crystalline silica is a common mineral found in naturally-occurring materials including sand, concrete and mortar. Cutting and other activities generate respirable dust and silica is release into the air creating inhalation hazards. Inhalation of this dust cause diseases including silicosis, lung cancer, COPD and kidney disease. You can read the detailed OSHA Safety and Health Information Bulletin online.
To help you understand silica information you should provide to your staff, click here to download a silica exposure safety meeting topic sheet. This is one way the Hellman & Associates' proactive approach has made us the preferred choice of businesses.
If you have questions about the OSHA inspection program or would like information and training on this topic, please contact us.