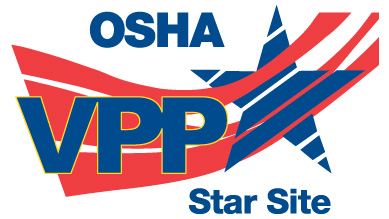 The U.S. Department of Labor's Occupational Safety and Health Administration (OSHA) has awarded the Voluntary Protection Program (VPP) Star designation to Hellman & Associates Inc., an environmental safety and health compliance management firm. The VPP Star is OSHA's highest level of recognition of employers and workers who have employed effective safety and health management systems and kept injury and illness rates below the Bureau of Labor Statistics' industry averages.
OSHA recognized Hellman & Associates for having an effective pre-task plan, job hazard analysis and strong culture of safety and health excellence, management commitment and employee engagement. VPP programs bring company management, site employees and OSHA together to work proactively to focus on hazard prevention and control, worksite analysis, training, management commitment and worker involvement to prevent fatalities, injuries and illnesses. Prospective VPP participants apply to OSHA for consideration, and then undergo a rigorous onsite evaluation by a team of safety and health professionals.
"Hellman & Associates is a great example for a company seeking to develop and implement highly effective safety and health management systems. For 13 years, they have earned the Star designation and have generously helped other companies achieve VPP recognition," explained Jennifer Rous, OSHA Region 8 Administrator. "As we renew their status for another three years, we applaud their commitment to setting high standards when it comes to keeping their employees and their clients' employees safe at work."
The OSHA Voluntary Protection Program (VPP) model is quite extensive. It is a tremendous challenge and a great achievement to be a VPP. Getting VPP status is difficult but staying in is even harder. VPP requires a long-term commitment to continuous improvement in the site safety and health management system. H&A is one of a very small number of safety and health management consulting companies in the country to achieve the OSHA VPP Star recognition.