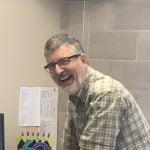 With a touch of sadness, but with an amazing amount of joy, I would like to inform our clients that Mitchel Little, Principal EHS Consultant, has announced his retirement from Hellman & Associates effective July 1, 2020.

Mitch's career as a healthy & safety professional spanned 34 years and we are grateful for having his expertise on our team for 10 of them. Mitch has been a key member of the H&A Leadership Team, helping us grow and develop our services and mentoring many young EHS professionals along the way.
Mitch assisted many clients during his time with H&A and formed close professional relationships with their leadership, management, and employees. We have already transitioned all of Mitch's ASSUREDComplianceSM and EHS support duties to other highly adept consultants in our office. If there are specific subject matter issues or questions that you may have previously reached out to Mitch for, we encourage you to contact your current EHS consultant or simply call our office.
On a personal note, Mitch and I have shared a friendship since the time we met at Colorado State University over 30 years ago. I cherish our friendship and believe I am blessed with the rare life experience to have our friendship and business relationship so closely fit us both. I have grown on a personal and professional level through our relationship and am so grateful to celebrate his amazing accomplishments and share his retirement announcement.
Congratulations on your retirement, Mitch! You have earned it.
Ryan Hellman
Founder & President