OSHA Form 300A, the Summary of Work-Related Injuries and Illnesses, must be completed and posted by February 1, 2023.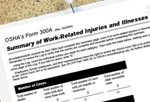 The summary must include the total number of 2022 job-related injuries and illnesses that were logged on your OSHA 300 form. If your company had no recordable injuries or illnesses in 2022, you must still post the form with zeros on the total line. All summaries must be certified by a company executive and remain displayed in a common area between February 1 and April 30, 2023.
---
Employers with 10 or less employees in the previous calendar year are exempt from routinely keeping injury and illness records. Employers in certain industries may be exempt from federal OSHA injury and illness recordkeeping and posting requirements. Click here to see if your industry is exempt.
---
Leave the Reporting to Us
With Hellman & Associates' annual ASSUREDComplianceSM, we are aware of changing regulations, will keep your program and training current and manage compliance and reporting for you.
As an ASSUREDComplianceSM partner, your regulatory compliance is guaranteed, meaning if you incur a citation for something we should have managed, we pay for it.