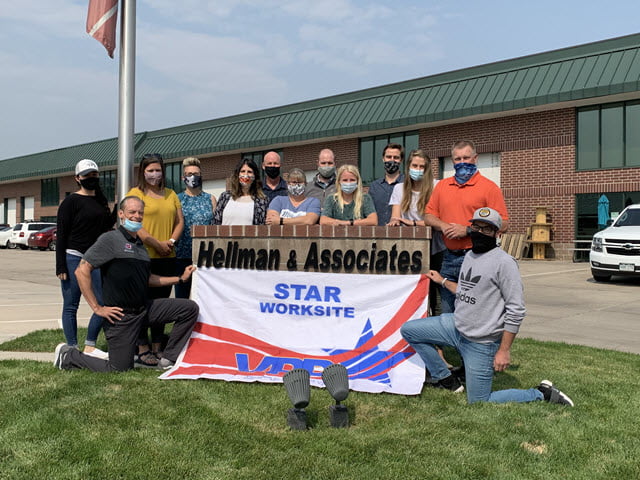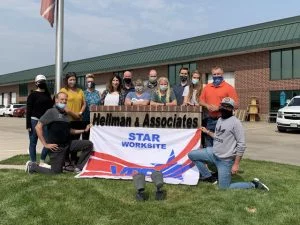 Hellman & Associates is proud to have been recertified as a "Star" worksite in the OSHA Voluntary Protection Program (VPP), the highest level of recognition for workplace health and safety excellence. VPP consists of an elite group of companies who put the safety of their employees first. By maintaining pinnacle safety standards, VPP participants are exempt from OSHA-programmed inspections—and experience 50% fewer workplace injuries.
We first became certified in 2010 as a Star Site in VPP to stand behind our commitment to safety and gain firsthand understanding of what it takes to achieve this honor. Every three or five years, VPP participants undergo a renewal audit, which is every bit as thorough as the initial audit. Ours took place in mid-February and included presentations by our staff, document and file review by the VPP audit team, employee interviews, and two off-site safety assessments. We were recertified as a VPP Star Site on the last day of our audit (February 12th) with no 90-day action items cited (a feat in and of itself!) and just recently received our new flag.
Here is a synopsis of our audit:
H&A Staff Presentations
H&A Continuous Improvement. This presentation included significant changes since our last audit.
H&A Near Misses & Corrective Action. This presentation analyzed issues that posed risk or required first aid in order to determine trends.
H&A Wellness Program. This presentation outlined our company-wide wellness plan.
H&A is designated as a mobile workforce, meaning that we maintain a home base as well as perform work at multiple off-site locations. As such, in addition to inspecting our facilities, OSHA conducted two off-site assessments at client sites–a medical device manufacturing company and a construction company–to give good representation of H&A work outside of the office.
H&A Areas of Excellence
The audit team identified four areas of excellence for H&A:
Vehicle Safety Auditors noted H&A's monthly vehicle inspections, peer inspections, car emergency kits, safety meeting focus on vehicle safety, and funding for repairs and maintenance on personal vehicles.
Employee Involvement Auditors noted that buy-in from employees is so complete that mid- and senior-level consultants are virtually indistinguishable from management in terms of knowledge of policies and procedures and commitment to implementing a safe and healthy working environment.
Management Commitment Auditors noted that management provides a great example and allows employees to have a strong role in determining the direction of the safety and health program as well as supporting wellness program activities and VPP. Management also provides resources for membership in professional organizations and pursuing certifications.
Involvement in the VPP Auditors noted that H&A has consistently provided support to the VPP and has dedicated time and resources to the program. H&A historically has had up to four Special Government Employees (out of a staff of 20) who have been recognized as strong team members contributing to numerous VPP evaluations in the past year and has been very active at VPPPA conferences. H&A is committed to the SGE program and will continue to keep several employees active in this program to support other VPP sites and the Region VIII VPP OSHA Leadership.
Recommendations for Improvement
When it comes to safety, there are always opportunities for improvement. Although we received our recertification without any 90-day action items, the audit team made some recommendations that would make our jobsite and operations even safer. Those items were related to the topics below and we have identified and implemented action paths for improvement, examples of which are noted alongside each topic.
Job Hazard Analysis (JHA) Updates Our action: Develop "JHA on-the-fly" for day of use on sites where hazards can frequently change, e.g., construction, and for non-routine tasks on other sites.
Cell Phone Policy Our action: Add checking for hands free/Bluetooth capability during H&A personal vehicle inspections.
Exposure to Unnecessary Risks Our action: Incorporate these risks into JHA on-the-fly; no longer allow voltage testing in certain situations.
Written Forklift Training Program Our action: Develop training on conducting forklift training and add it to the health and safety manual.
Hazard Control at Client Sites Our action: Report possible client-site hazards to H&A safety team for evaluation to report to client.
De-escalation Training Our action: Determine whether there is exposure that warrants de-escalation training and avoid the 5 DON'Ts for de-escalation (TACOS): threaten, argue, challenge, order, shame.
Internal IH Monitoring and Tracking Our action: Implement a new IH sampling plan to be presented at each monthly staff meeting with safety committee to maintain on a monthly basis.
Telework/Long-Term Client Workstations Our action: Use ergonomic self-assessment checklist for both home offices and permanent client desks; report issues to the safety committee for virtual or in-person reviews.
QA/Peer Review of Client Hazards Our action: Our quality assurance program now includes onsite visits by peers to client sites.
Safety is our passion at H&A, so we were excited to create and implement action items in all of these areas. We look forward to our flag-flying ceremony and celebration with OSHA Region VIII manager Brad Baptiste once we are again able to gather.
H&A's VPP Support Services
Since we earned our designation as a VPP Star Site in 2010, we have helped numerous companies achieve and maintain their VPP star status. We are just one of three safety consultancies in the country who are VPP certified, giving us firsthand experience as to what the process entails. In addition, we have sponsored four of our consultants to become Special Government Employees (SGEs) who work alongside OSHA, assisting during VPP onsite evaluations. Over the past decade, we have gained valuable insight into what it takes to achieve and maintain VPP Star Site status. If you would like to join the elite group of companies who put the safety of their employees first, or if you have an upcoming OSHA VPP renewal audit, H&A can guide you through the process. Please contact us at (303) 384-9828.
Learn how H&A helped LPR, the first construction company in Colorado to achieve VPP Star Site status, renew their star and become the longest consecutive VPP member in Region VIII. Read the case study.
Learn how H&A helped OldCastle revamp their Industrial Hygiene program, an area flagged as a 90-day action item during their VPP renewal audit. Read the case study.